Sugaring off
is happening now (Feb & March) in Central and Eastern Canada, and even British Columbia - as we shift from winter into spring and the temperature rises. Ms. Ollinger's class called this time of year "Winspring" et la classe de Mme Valerie ils l'ont nommé cette fois "Prinver!" Excellent!
Beyond knowing that maple syrup is delicious, what else do you know about this amazing tree gift?
Aboriginals learned about this maple tree nectar & share their knowledge with immigrants:
CBC Archives
shows the history of maple sugar production from Aboriginals to Canadian immigrants.

QUEBEC:


Le goût et la couleur du sirop d'éreble? - UN CHEF À LA CABANE - Capsule - S8E079
(4:07) (Discusses molecules!)
Ontario maple sugar producer:
Fultons Pancake House & Sugar Bush,
Pakenham, Ontario.
(5:35)
"
Tap My Trees
" aims to teach hobbyists and home schooling families how to make maple syrup.
"Tap My Trees" reviews the supplies you will need.
Faits de Le Sirop D'Érable

/
Maple Syrup Facts:
Maple syrup is one of Canada's most popular commodities and accounts for 85% of the world's total supply (

Agriculture and Agri-Food Canada

) (Feb., 2016).

Several Canadian provinces produce maple syrup; Québec, Ontario, New Brunswick and Nova Scotia account for most of Canada's maple syrup production. Maple festivals abound wherever syrup is made.

There are 17 syrup-producing states in the U.S.

The province of Quebec recognized as the leading producer of maple syrup worldwide

Histoire et Origines: La Légende de Nokomis

SIROP D'ÉRABLE PUR : 60 ml (1/4 tasse) vs Sirop Habitant

Calcium, magnésium et zinc

: 4 %

SIROP HABITANT : 60 ml (1/4 tasse)

Calcium, magnésium et zinc :

0 %


"Comme on peut le constater, côté calories et sucres, ces deux produits sont très semblables. Toutefois, le sirop Habitant ne renferme ni vitamines ni minéraux.

Liste d'ingrédients
Si le sirop d'érable ne contient que du sirop d'érable, la liste d'ingrédients du sirop d'imitation s'allonge. Celle qui rassemble plusieurs ingrédients, dont le glucose-fructose, le sucre, le sirop de maïs et la cassonade, compte aussi des additifs, du colorant caramel et un arôme artificiel d'érable.

Antioxydants? Indice glycémique plus faible? Rien ne s'applique à ce sirop d'imitation! Sans parler de la saveur qui ne rappelle en rien le délicieux sirop d'érable bien de chez nous! "(Source: Le Journal de Montréal)
Festival du Sucre D'Érable et Cabane à Sucre / Maple Syrup Festivals & Sugar Shacks - Fevrier et Mai / February-May
Poesie/Poem
"Maple Feast"
In the big-flaked sugar-snow
The crystal-gathering sledges go.


Stumbling through silver to my knees,
I shout among the maple trees,


Tilt gleaming buckets icy cold
Till I am full as I can hold


Of clear bright sap, until I feel
Like a maple tree from head to heel!


Then to the sugarhouse I run
Where syrup, golden as the sun,


Is boiling in the crisp march air.
And I, as daft as a baby bear,


Eat, till my buttons burst asunder
From maple sweetness, maple wonder!


By Frances Frost from Sing a Song of Seasons: Poems about Holidays, Vacation Days, and Days to go to School. (821.008 BRE)


RECETTES / RECIPES: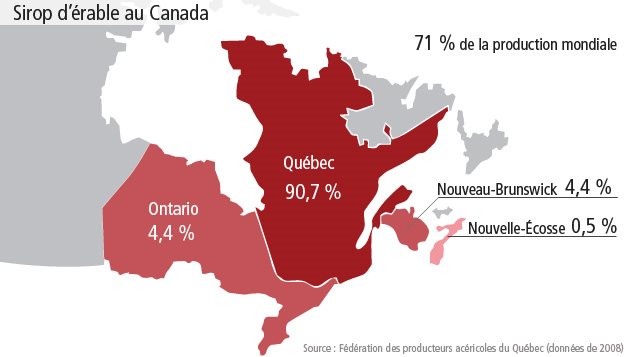 TEACHER RESOURCES: